As you may know, we were awarded a research grant by Innovate UK (part of UK Research & Innovation, a UK government funded body) in January 2019. The study commenced in April 2019 and we will publish regular updates on this (and other research that we hope to start soon) on this page.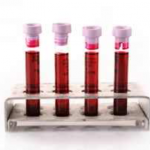 Feasibility Study
In April 2019 we started a study to establish:
Evidence that salivary ferritin expression is indicative of the total body iron status
How to compensate for natural variations in saliva concentration
In order to achieve this, we had to recruit volunteers to provide us with matched blood and saliva samples, to be utilised in the study. Many thanks to everyone who provided us with samples, we managed to get 50 volunteers and had a very successful day, you can see the photos here: https://www.hemogad.com/sample-volunteer-day/
The samples were health screened before being delivered to our research laboratory, for the testing to commence. The first phase of testing uses an Enzyme-Linked ImmunoSorbent Assay test (ELISA) and is almost complete. We will then repeat these tests using different antibodies, in order to find the optimum solution for attaching to ferritin in saliva. The results should provide the basis for us to move forward to producing a 'bespoke' ELISA test that will provide a platform for us to transfer the ELISA technology to a Lateral Flow Device (LFD) that can be used in a home environment (without clinician intervention) that enables iron overload and iron deficiency patients to monitor their own Serum Ferritin (SF) level.
This will be a world first, using saliva to monitor your SF level.