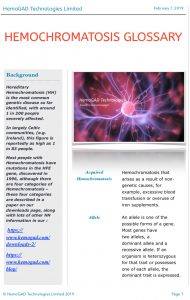 We have seen lots of questions on the support groups around some of the technical medical terms used to describe / explain GH / HH, so have put together a glossary, which might help. The full document can be found at:
https://www.hemogad.com/downloads-2/
You will need to register to download the full 7-page .pdf but we promise not to fill up your inbox ?
Hope you find this to be of some use and if you think of any additions / omissions / clarifications please do let me know.